MARINA NEOPHYTOU
CO-FOUNDER & DIRECTOR OF OPERATIONS AND INTERNATIONAL PARTNERSHIPS
---
Marina Neophytou is a believer in arts-based practices, the use of digital technologies and grassroots approaches. With these ideals at hand, she helped build one of the most groundbreaking civil society peacebuilding initiatives in Cyprus. Taking the lessons learned from her 13 years of experience in strategy, operations and campaign to other post conflict societies, she hopes to make a positive and lasting change in the lives of youth. A change that is supported from the outside but developed within, one that enables the partners to continue creating.


Marina holds an MSc in Organisational and Social Psychology and a BSc in Operational Research/Management Sciences from the University of London School of Economics and Political Sciences in London. She is an experienced director with a demonstrated history of working in the CSO, media, consulting and advertising industries. She is a strong business development professional, skilled in operations, project management, strategy, digital performance media, communications, strategic campaign management and consulting.

Her overall goal is to make sure the youth and communities that take part in VIVOs initiatives, gain something beautiful and substantial.
ALDEN JACOBS
CO-FOUNDER & DIRECTOR OF PROGRAM DEVELOPMENT
---
Alden Jacobs is a believer in peace and community led initiatives. As a Rotary Peace Fellow at the Department of Peace and Conflict Research in Uppsala, Sweden, he developed a strong interest in arts-based peacebuilding. This focus was undoubtedly a result of his years of work in community development around Latin America, Sub-Saharan Africa and Europe. With VIVOs he wants to partner with local initiatives to give opportunities for youth to share their voices and evolving societal perspectives.

Alden has a MSSc in Peace and Conflict Research from Uppsala University in Sweden, where he was a Rotary Peace Fellow. He received a BA in International Studies from the University of Oregon, USA. His professional experience has focused on project management for international community development initiatives. Areas of work include Honduras, Mozambique and Cyprus. In these positions he has proved to be a highly motivated and effective project manager even under stressful conditions. He is passionate about community development, community involvement, peacebuilding and youth.

His goal is to help communities promote peace advocacy at a local and international level.
---
BOARD OF DIRECTORS & TECHNICAL ADVISORS

---
Dr TERRY PERK
HEAD OF SCHOOL FOR FINE ART & PHOTOGRAPHY
VISUAL VOICES BOARD MEMBER

---
Terry Perk is the Head of School for Fine Art and Photography at the University for the Creative Arts, where he is also Professor for Fine Art Education and Head of the university's Canterbury campus. He has a range of experience developing curricula for arts and in his own research has worked extensively in developing and curating work for the public realm. His sculptural practice has a particular interest in our relationship to places and the fictions we create within them. His most recent work is focused on the landscapes of Kent and the South East of England where he lives.

LUCIENE HEYWORTH
EDUCATION CAPACITY DEVELOPMENT
VISUAL VOICES BOARD MEMBER

---
Luciene Heyworth has experience with INGO, Government and Non-For-Profit sectors in education (programming and policy), livelihoods, social policy and justice. Demonstrated skills in programme management, policy development, strategy and analysis. A strong communicator with a developed competency for building effective working relationships, including stakeholder engagement and management. Experience managing niche and large-scale projects, their development, implementation, monitoring and evaluation.
KATE LONERGAN
PEACE AND CONFLICT RESEARCH
VISUAL VOICES BOARD MEMBER
---
Kate Lonergan is a PhD Candidate with Department of Peace and Conflict Research and the Hugo Valentin Centre at Uppsala University, and conducts research focused on reconciliation and peacebuilding after conflict and mass violence. Kate has a Master's degree from the Department of Peace and Conflict Research at Uppsala University, where she was a Rotary Peace Fellow. Kate has previously worked with the World Bank on justice and development issues, and conducted research on community reintegration of ex-combatants in northern Uganda. She has also worked with community conflict resolution and restorative justice initiatives in the Washington, DC area.
MIKE MELDONIAN
OPERATIONS & ORGANISATIONAL DEVELOPMENT
VISUAL VOICES BOARD MEMBER

---
Mike Meldonian, MALD is an Operations and Organizational Development Advisor at John Snow, Inc. (JSI), an international public health management consulting and research organization dedicated to improving the health of individuals and communities around the globe. Mike is a member of JSI's Capacity Development Center's leadership team, with over 9 years of experience training and advising public health and development-focused organizations on capacity development, leadership, and organizational growth strategies. He holds a Master of Arts in Law and Diplomacy from The Fletcher School at Tufts University, where he concentrated on NGO management and development economics. He has focused on market-based approaches to development and consulted with organizations on strategy, partnership, and training in Mozambique, South Africa, Kenya, Ethiopia, and India.
GEORGIOS FRANTZIS
HUMANITARIAN DIPLOMACY
VISUAL VOICES BOARD MEMBER
---
Georgios has over 11 years of humanitarian work experience, currently working as the MENA Regional Representative for CaLP network. His career includes diverse programmatic, policy and coordination experience in the field and headquarters (Syria, South Sudan, Pakistan, Jordan, Greece, Belgium and Cyprus). Prior to joining CaLP, Georgios has worked with the International Committee of Red Cross (ICRC), the International Federation of the Red Cross (IFRC), the European Commission (DEVCO), ActionAid and Cyprus Red Cross. Georgios has a post-graduate diploma in Humanitarian Diplomacy, alongside Bachelor and Master degrees in Law.
COLLEEN HUYSMAN
CLINICAL SOCIAL WORKER YOUTH DEVELOPMENT
VISUAL VOICES BOARD MEMBER

---
Colleen Huysman is passionate about connection, social justice and positive youth development. Colleen has spent the past decade working with youth development organizations in the United States and internationally, including Boys and Girls Clubs of Denver, Grassroots Soccer and Elizabeth Glaser Pediatric AIDS Foundation in Mozambique. Colleen has a Masters in Social Work from the University of Michigan and is currently working as a clinical social worker in Boston, MA connecting young people to positive opportunities. Colleen is excited to be a part of VIVOs supporting young people in community organizing through the arts.
GRANT ALPORT
ENGAGEMENT CONSULTANT
VISUAL VOICES BOARD MEMBER
---
Grant Alport is an experienced Engagement Manager at Oliver Wyman, a global consultancy, based in Washington D.C. He works closely with international clients to solve their most challenging problems. In his role, Grant leads teams helping clients to define business strategies through innovative, data-driven analysis and execute on key organizational initiatives through effective project management. Grant holds a B.A. from Duke University with dual majors in Public Policy and Spanish with a minor in Economics. He lives in Arlington, VA with his partner and dog. Outside of work, Grant is an avid traveler, having visited over 50 countries across the Americas, Europe, Asia, and Africa.
JEANNO GAUSSI
ARTIST
VISUAL VOICES ADVISOR
---
Jeanno Gaussi is a Berlin based mixed media artist. Gaussi started her art career as a video and film artist and her short films were internationally shown in several festivals including International Film Festival Clermont Ferrand, France, Kara Film Festival, Pakistan, the International Film Festival Leipzig, Germany among many others. Gaussi's work explores cultural identities, aspects of memorization and remembrance, and of identity. She often develops projects in close relation to the place in which they are created, examines the characteristics and unique aspects of her surroundings. Gaussi's multi-cultural background – the artist grew up in Kabul, Delhi and Berlin – has greatly influenced her artistic practice, yet her interest goes beyond national borders and categorizations.
RAPHAEL VERGIN
CONFLICT TRANSFORMATION AND PROTECTION OF HUMAN RIGHTS DEFENDERS/ ARTISTS AT RISK
VISUAL VOICES ADVISOR
---
Raphael Vergin is co-founder and executive director of Berlin based Culture for Peace (CfP). CfP implements peace and dialogue projects in (post-)conflict regions such as Nepal and Myanmar. The community-driven projects integrate best-practice conflict transformation with innovative arts-based approaches, such as storytelling and playback theatre. Raphael has a M.A. in political science and American studies from Goethe-University in Frankfurt, Germany. He had worked in German development cooperation and with peace brigades international. For the last two years he had also contributed to establishing the Martin Roth-Initiative, a joint program of ifa (Institut für Auslandsbeziehungen) and the Goethe-Institut that provides temporary relocation for artists at risk.
Dr MARINA HASSAPOPOULOU
CINEMA STUDIES, VR/AR & AI in ARTS & HUMANITIES
VISUAL VOICES ADVISOR

---
Marina Hassapopoulou is Assistant Professor in the Department of Cinema Studies, and has served as the Associate Co-Director of the Moving Image Archiving and Preservation program for the academic year 2018-19, at Tisch School of the Arts, New York University (NYU). She has been awarded a Faculty Fellowship from the NYU Center of the Humanities for the academic year 2019-2020, where she will be working on her upcoming book,Interactive Cinema: The Ethics of Participation and Collectivity in the Era of (Dis)Connection. She is also involved in new interdisciplinary initiatives for Virtual/Augmented Reality practice, Artificial Intelligence and machine learning in the Arts and Humanities.

HERMAN GRECH
JOURNALIST
VISUAL VOICES ADVISOR
---
Herman Grech is one of Malta's most established journalists and editors. He is the editor-in-chief of Times of Malta and a prominent campaigner for human rights and anti-hate speech. Herman has been involved in Malta's theatre scene for almost 30 years. Among other productions, he directed Frank McGuinness's Someone Who'll Watch Over Me, Kenneth Ross's The Lockerbie Bomber and Anders Lustgarten's Lampedusa. In 2018 he wrote his first play, De-terminated, which tackled Malta's strict anti-abortion laws. The play, which he also directed, went on to be nominated among the best productions of the year in the national arts awards. In 2021, he is staging the second play he authored – They Blew Her Up – which deals with the assassination of journalist Daphne Caruana Galizia. Herman also served as artistic director for MADC, Malta's most established drama company.

Dr THEOPISTI STYLIANOU-LAMBERT
RESEARCHER, VISUAL ARTIST, EDUCATOR
VISUAL VOICES ADVISOR

---
Theopisti Stylianou-Lambert is a researcher, visual artist and educator. She is currently associate professor and chair of the department of Multimedia and Graphic Arts at the Cyprus University of Technology, the coordinator of its "Visual Sociology and Museum Studies Lab" and the group leader of "Museum Lab" at Cyens research centre. Her research and artistic interests include museum studies and visual sociology with an emphasis on photography. Theopisti has published widely on museums and photography, is the co-author of The Political Museum (Routledge, 2016) and the editor of Museums and Visitor Photography (MuseumsEtc, 2016), Museums and Photography: Displaying Death (co-editor, Routledge, 2017), Photography and Cyprus: Time, Place, Identity (co-editor, I.B.Tauris, 2014), and Re-envisioning Cyprus(co-editor, University of Nicosia Press, 2010). She received her PhD in Museum Studies from the University of Leicester (UK) and her MA in Visual Arts/ Museum Education from the University of Texas at Austin (USA). Theopisti is also the recipient of several scholarships and awards including a Smithsonian Fellowship in Museum Practice (USA), a Fulbright Fellowship (USA) and an Arts and Humanities Research Council Award (UK).
COSTAS APOSTOLIDES
NEGOTIATION FOR CONFLICT RESOLUTION
VISUAL VOICES ADVISOR
---
Costas Apostolides has been involved in negotiations for a resolution of the Cyprus conflict for 30 years at the highest level as a researcher and advisor. In particular he is a member of the Greek Cypriot Negotiation teams for property and territorial adjustment for the UN sponsored Cyprus Talks. Costas has been teaching Negotiation for Conflict Resolution under the joint programme of the University of Malta and George Mason University in Virginia USA, currently a visiting lecturer at the Mediterranean Academy of Diplomatic Studies at Malta University. Costas is also Chairman of EMS Economic Management, a consultancy specializing in development economics, peace economics, property and town planning issues, and rural development. In addition he is a founder member of Pax Cypria Cyprus Institute for Peace.
ELIA NEOPHYTOU
ARTIST, CURATOR
VISUAL VOICES ADVISOR
---
---
Elia Neophytou completed her studies in the UK at the University for Creative Arts with a B.A. Hons of Fine Arts specialising in sculpture and installation art. She also holds a Masters degree in Curatorial Practice. She has organised and curated five large scale exhibitions in Cyprus and in the UK. Her curatorial work focuses on creating an interactive experience for the viewer, while the topics she usually works with are relevant to social and cultural affairs. Elia has significant experience in organizing, coordinating and implementing cultural actions within the framework of European and local programs.
MAREN WICKWIRE
FOUNDER & EXECUTIVE PRODUCER, DIRECTOR, DOP, EDITOR
VISUAL VOICES ADVISOR
---
Maren Wickwire was born in Germany and founded Manifest Media subsequent to graduation in 2007. She studied Documentary film at the Folkwang Hochschule Essen and the Holon Institute of Technology in Israel, and holds an M.A. in Visual and Media Anthropology from the Freie Universität in Berlin. With wide-ranging experience in directing, producing and filming documentaries as well as working with multi-vocal video installations, Maren has presented her work in more than twenty countries and international film festivals and exhibitions. She is a recipient of the National Endowment for the Arts grant and a long time creative collaborator of the Harvard Humanitarian Initiative and ART WORKS Projects, focusing on peacemaking, conflict resolution and global migration.

JAMAL PENJWENY
WAR ARTIST, PHOTOGRAPHER, DOCUMENTARY FILMMAKER, CEO & FOUNDER OF JPFOUNDATION
VISUAL VOICES ADVISOR
---
Jamal Penjweny is an Iraqi Kurdish photographer, war artist and a filmmaker. He represented Iraq at the 2013 Veni­ce Biennale, and his work has appeared in the New York Tim­es and National Geog­raphic, the guardian, and other ve­nues. Penjweny's pho­tography projects ha­ve been selected and exhibited in New Mu­seum of New York, Mu­sée du Quai Branly of Paris, National Mu­seum of Bahrain, Her­bert Art Gallery and Museum, the Imperial War Museum of Lond­on, the Today Museum of China, Galleria Nazionale d'Arte Moderna e Contemporanea Roma-Italy and the British Museum.


MELISSA HEKKERS
JOURNALIST & AUTHOR
VISUAL VOICES ADVISOR

---
Melissa Hekkers is a freelance journalist and author, who has frequently been featured in mainstream news outlets and other publications in Cyprus. Since 2015, Melissa has been teaching creative writing to children and adults. Her most recent publication (2018), My Cape Greco Mandala, which is the third in a series, is a colouring book inspired by the wildlife of the Cape Greco peninsula in Cyprus and was preceded by My Akamas Mandala which focuses on a variety of endemic plants found on the Akamas Natural Reserve. In 2016, she published My Nicosia Mandala, the first of the above series, an innovative, interactive colouring book about the historic fortifications of the old town of Nicosia. Melissa also focuses on silenced communities in Cyprus: she writes about migrants, both as a reporter and author; profiles them and teaches them creative and script writing skills through European funded programmes.
ANTHONY FREDA
ARTIST, ILLUSTRATOR, ANTI-WAR ACTIVIST
VISUAL VOICES ADVISOR
---
Based in Long Island NY, Freda works as an artist, illustrator, anti-war activist and as part of the adjunct faculty of the Fashion Institute of Technology in New York. In addition to many mainstream clients, such as Time, The New Yorker, Rolling Stone and The New York Times, and The Nation Opp Art series, he also contributes to many alternative news websites and publication, such as Code Pink,
Adbusters
,
Liberation.fr
, Global Research, Cindy Sheehan's The Soapbox and
Ih8war.com
. and
https://occupypeace.com
. In 2006 The Village Voice commissioned Freda to illustrate a story about people who challenge the official 9/11 narrative, the artwork has since become part of the permanent collection of the US National September 11th Museum in New York. The City Museum of Luxembourg has also acquired a print of this piece to be part of their collection.
LINNÉA FRÄNDÅ
COMMUNICATION CONSULTANT
VISUAL VOICES ADVISOR

---
Linnéa Frändå holds a B.A in Global Development from Stockholm University and an M.S in Gender Studies. She most recently researched social impediments for peacebuilding interactions among young Cypriot women (2017). As a human rights activist, Linnéa's passion lies in raising awareness and engagement for issues of social sustainability, human rights and equality. She is a seasoned communicator, having spent several years producing visual and written content for civil society organizations, including the Religious Track of the Cyprus Peace Process, ActionAid, and CONCORD Sweden.
ANTONIS POULIASIS
VIDEO MAKER, VISUAL EDITOR, PHOTOGRAPHER
VISUAL VOICES ADVISOR

---
Antonis Pouliasis is a video maker, visual editor and a photographer. He had his first encounter with video production while studying Audio Visual Communication (2005) in Frederick Nicosia and a degree on Film Editing from IEK AKMI, Athens (2008). He was the director and co-founder of PKF Multispace (2012-2014) with main duties the organisation of artistic and social events working with local musicians, theatrical teams and artists. He has collaborated with several local organisations, NGOs and festivals on the visual direction and video promotion and design. He is practising both digital and analogue photography with main inspiration the documentation of the social behaviour. His aim is to feature work in the documentary field.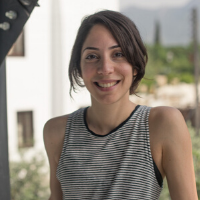 CHRISTODOULOS PANAYIOTOU
ARTIST
VISUAL VOICES ADVISOR
---
Christodoulos Panayiotou's wide-ranging research focuses on the identification and uncovering of hidden narratives in the visual records of history and time. Solo exhibitions of his work have been held (amongst others) at the 56th Venice Biennial, The Cyprus Pavilion; Casa Luis Barragán, Mexico City; Moderna Museet, Stockholm; Kunsthalle Zürich; Casino Luxembourg; CCA Kitakyushu; Museum of Contemporary Art, St. Louis; Museum of Contemporary Art, Leipzig; Centre d'Art Contemporain de Brétigny; and at Point Center of Contemporary Art, Nicosia. His work was also shown in a number of group exhibitions including: the 8th Melle Biennale; the 14th Lyon Biennial; the 13th Sharjah Biennial; dOCUMENTA (13), Kassel; 8th Berlin Biennale; 7th Liverpool Biennial; Hammer Museum, Los Angeles; Centre Pompidou, Paris; Museion, Bolzano; Migros Museum, Zürich; CCA Wattis Institute for Contemporary Arts, San Francisco; Joan Miro Foundation, Barcelona; Witte de With, Rotterdam; Bonniers Konsthall, Stockholm; Philadelphia Museum of Art; Ashkal Alwan Center for Contemporary Arts, Beirut; Artist Space, New York; MoCA Miami.
Dr ESRA PLÜMER BARDAK
ART HISTORIAN & RESEARCHER
VISUAL VOICES ADVISOR
---
Esra Plümer Bardak is an art historian, researcher and active member of non-profit art associations. She earned her PhD in Art History at the University of Nottingham in 2012 and has lectured at several institutions on Modern and Contemporary Art. She also holds a PG-Dip in Arts Management and Cultural Policy from Queen's University, Belfast. She is currently working as one of the art consultants for the European-Mediterranean Arts Association's EU Funded Project 'Art for All' (2018-2021). One of her main roles in the project is overseeing the production and publication of a series of children's books and thematic art history books for adults as Series Editor. Other publications include her monographic book titled Unica Zurn: Art, Writing and Post-war Surrealism (IB Tauris, 2016) and "From narration to dialogue? Thinking about the way we talk about contemporary visual art in the Turkish Cypriot Community".
Since 2017 she has been a faculty member as Assistant Professor at the Arkin University of Creative Arts and Design, Cyprus.
ANDYS SKORDIS
COMPOSER
VISUAL VOICES ADVISOR

---
Andys Skordis is a Cypriot composer, who has studied composition at Berklee College of Music and at the Conservatorium Van Amsterdam, as well as Karnatic music with Dr. Rafael Reina and Balinese Gamelan at ISI Denpasar in Bali. His work list includes operas, orchestral and chamber pieces, Gamelan music, vocal works, and music for dance, theatre and short films. His music has been performed worldwide by many acclaimed musicians and renowned ensembles, in festivals and concerts of contemporary music. In addition, he has created various music theatre performances in unconventional spaces like quarries, temples, abandoned buildings, and so on. His music has received international recognition through various prizes including the BUMA Toonzetters prize, one of the highest composition prizes in The Netherlands, and more. As a composer he finds inspiration in the primordial human nature, which is reflected through a contemporary methodology in his compositions. His recent works find stimulation from ceremonial and mical rituals from around the world. These incentives are expressed as a representation of a contemporary ritual characterised by tension and mysticism in his music. At the moment he lives in Amsterdam where he teaches at the Conservatorium Van Amsterdam and composes music.
DANA BARQAWI
ARTIST -- URBAN PLANNER
VISUAL VOICES ADVISOR

---
Dana Barqawi is a multidisciplinary artist and urban planner, based in Amman, Jordan. She holds a BSc in Architecture and a double MSc in International Cooperation, Urban Development & Emergency Architecture. For Dana, the act of artistic creation is inseparable from notions of the real world. In times where socio-political changes compose an inherent part of our reality, she chooses to reflect the context within her work, consequently creating politically and socially engaged art. Dana's work challenges colonial narratives, explores indigenous identities, and aspects of womanhood and community. This approach unfolded as a result of her years of work with INGOs and Government bodies, and her International training spanning Europe, Africa & the Middle East focusing on community participation and development. Growing up with women who painted, sewed, designed, and made art, Dana extends herself through artistry and has a long-standing fascination with detail. As a process driven artist, Dana uses raw concepts to define the rules of each project. Working from a small home studio in Amman, her work involves experimenting with material and is constantly evolving.

JP (JUHA-PEKKA) VÄISÄNEN
CONCEPTUAL ARTIST AND ACTIVIST
VISUAL VOICES ADVISOR

---
JP (Juha-Pekka) Väisänen is a believer in art as powerful tool for understanding, emancipation and social change. He lives and works in Helsinki, Finland. He is famous for his Artist Manifesto declaringhis art as property of the people. Since 1990 he has given away his art in live art actions and performances in 20 different countries around the world. Activism and art go hand in hand in his creative and political thinking. He has a history of LGBTI,peace and solidarity activism since the 1980´s. He has graduated from the Helsinki Academy of Fine Arts with Master's degree in Visual Arts. He hasdone post graduate studies at the New York State University at Albany in the USA and Escuela Esmeralda in Mexico City in Mexico. His goal is to enable, encourage and assist people in joint participation in artistic and social projects.