---

VISUAL VOICES ARTIST IN RESIDENCE 2019

Living Between — Future and Past is an exhibition that embraces art as activism, artists as communicators, and alternative perspectives to collective challenges. These artworks, from five different artists with five different mediums, share a common message. There are many ways to reflect on, to express peace. The universality arrives at a better world, where beauty stems from darker moments in time, presenting a vision on how society can proceed. To hold on to the past, remain stuck in the present, or to make the future the desired past, present and future. Inviting you to reflect on and challenge the truths you believe.


---
MÜNÜSE AĞAGIL
The Big Picture, 2019

Fabric & foam frame


I am a fashion designer and my work is very conceptual. I am passionate about expressing feelings through my designs. In Cyprus, war has remained camouflaged in our environment, in our skin, in our hearts, and in our homes for so many years. Considering the absence of personal interaction between communities and the continued condition of negative peace, I used different colours of fabrics to create my own camouflage patterned wearable arts. We are all trying to live in-between and need to remind ourselves to see the bigger picture every day.
---
BARIŞ PARLAN
digiTale Journey: The War, 2019
Remix Performance


War is a term whose shadow still dictates many of the issues of Cyprus' agenda. Remaining fear, from the past, is utilized by the status quo to shape the future that is profitable to the political elite. This way of thinking, that is shaped by ideologies, can make humans so blind that they cannot even see the dead bodies hitting their shores. Societies are misdirected by their rulers to focus on symptoms rather than the problem itself. My art disturbs by presenting an alternative reality, meant to depolarise peoples. Humans tend to unite to solve common problems.
---
EBRU ÖZTÜRK
Break Down The Walls, 2019
Wood, stencil, cement, acrylic paint, patina paint, distress paint, glue 90cm x 90cm

Love is the source of our existence. The entire universe is an exhibition hall and humans are the essence. When discovering one's own true self, the walls are removed, and the universe is seen with love. This is when art and peace arise. It stands out. By examining my own creativity and love, by synthesizing the old and the new, I reveal my style. I do not limit myself as an artist of crafts, I am not limited to a concept, a school, a material, a space, a human class. I want to share with every class of people and have opened my art-education channel "Design with Love / Aşk ile Tasarla". Art made with love is finding ourselves and our way in the universe, guiding us to reconcile with everything that exists.
---
PIRIL TORGUT
Nuclear Family, 2019
Oil on canvas 170cm x 170cm

A distressed turtle family that bear a resemblance to most post-war Cypriot families. Colour allocation within the exposed, traditionally familiar, marine creatures communicate with an enigma through commencing conversations on purpose. Father – wounded. Son – dead. Mother – mourning. Child – naïve. Babies – purity. The family painted essentially tells a story of origin and confusion, therefore creates a metaphor of an aftermath. Such amphibious creatures also generate harmonies within chaos by mirroring depoliticization of universal or domestic water conflicts. The figures are positioned within the canvas to mimic an unfit situation that existed anywhere imaginable; surreal dimensions invite viewers to encounter this suffering.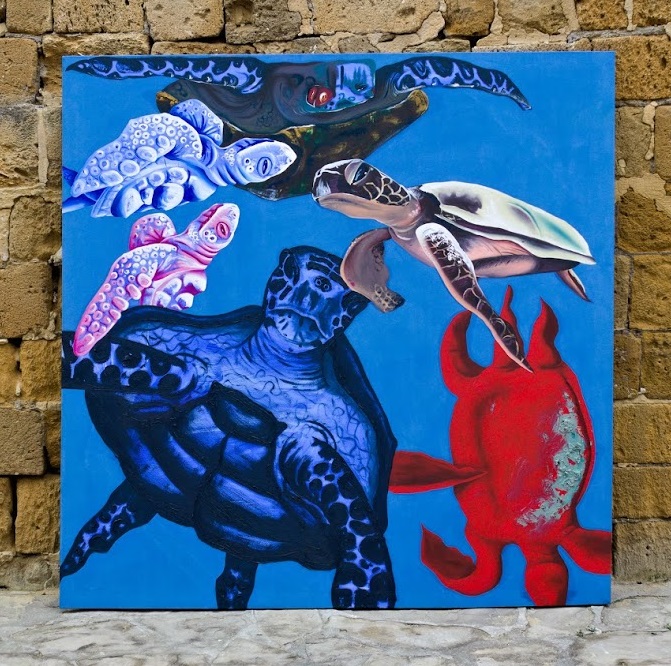 ---

MEMO
3RD Generation Album, 2019

Readymade Installation


When I was younger, I would always look at these albums with my grandmother and imagine those beautiful days. There were gaps in between, confusion, disagreements, and no empathy. Now, as a third generation person (since the conflict in 1974), I am collecting memories to be photographed by living outside my belonging. The fact that Cyprus is divided into two means that the memories are divided into two. When we remove the concept of the two sides and use regions, perhaps our other attitudes and other concepts will decrease. I want to create for my future, just like my grandmother did, there are things about Cyprus (our home) that I want to leave for the future, generations. Let's wash what we have taken from the past as new generations, synthesize the areas we live in, and create photo albums together without borders, without gender, religion, language, origin distinctions ....... let us be.

To visit the digital exhibition catalogue click here.
Guest mentors:
Dr Alev Adil
- is an internationally recognised writer, artist and academic. Her poetry has been translated into Albanian, Azeri, Dutch, Greek, Finnish, Flemish, French, Lithuanian, Romanian, Russian and Turkish. Alev's photographic work, multimedia performances and film-poems have been featured in magazines, used as book covers and been exhibited/performed in galleries including Tate Britain, the British Museum, the Royal Maritime Museum in London and internationally from Azerbaijan, Bangladesh and Cyprus to Manifesta in Zurich. She has a PhD in multimedia poetics from Central Saint Martin's, the University of the Arts in the UK, and has published widely in international academic and literary journals.
Aslı Bolayır
- completed her higher education in art department in Marseille Fine Art Academy in France. Her artworks are exhibited worldwide in many private and public collections. She gives Expressive Arts workshops in Cyprus and Spain.
Jamal Penjweny
- is an Iraqi Kurdish photographer, war artist and a filmmaker. He represented Iraq at the 2013 Veni­ce Biennale, and his work has appeared in the New York Tim­es and National Geog­raphic, the guardian, and other ve­nues. Penjweny's pho­tography projects ha­ve been selected and exhibited in New Mu­seum of New York, Mu­sée du Quai Branly of Paris, National Mu­seum of Bahrain, Her­bert Art Gallery and Museum, the Imperial War Museum of Lond­on, the Today Museum of China, Galleria Nazionale d'Arte Moderna e Contemporanea Roma-Italy and the British Museum.
Rebecca Sampson
- is a German American photographer based in Berlin. Her photography is linked to her passion for reportage and social commentary, focusing on a wide range of social issues. She has been exhibited internationally in the Americas, Asia, and Europe.
Elenitsa Georgiou
- is a Cypriot music educator and story-teller. She runs The Majestic Music Tree that designs and presents educational interactive programs for museums based on the creative arts (music, movement, drama, visual arts), music and storytelling workshops forchildren and adults, and storytelling performances at schools and Festivals.
With the support of Allianz Kulturstiftung and the Grow Civic Program funded by the European Union
.